Palo Alto Networks
Powerful security devices with advanced secuirty threat protection and layer 7 visibility.
Palo Alto Networks

Bringing together all key network security functions, including advanced threat protection, firewall, IDS/IPS, and URL filtering.
Firewall Platforms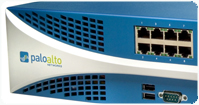 Firewall Platforms Palo Alto Networks offers a full line of purpose-built hardware platforms designed for enterprise remote offices to high-speed datacenters. The platform architecture is based on a single-pass software engine and uses function-specific processing for networking, security, threat prevention, and management to deliver predictable performance.