Bluecoat
Application-level availability, security and acceleration with comprehensive visibility and user control our customers need.
Bluecoat Portfolio

Bluecoat is a leader in WAN optimization for the enterprise. Because of the wide array of products, Packetshaper products are located on their own page.
ProxySG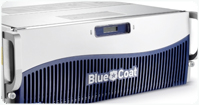 Blue Coat ProxySG appliances offer a comprehensive foundation for the Blue Coat Secure Web Gateway solution and advanced WAN Optimization feature sets. ProxySG appliances combine high-performance hardware with Blue Coat SGOS, a custom, object-based operating system that enables flexible policy control over content, users, applications and protocols.