VMware
A leader and pioneer in virtualization with an ever expanding reach into new undiscovered possibilities.
VMware Portfolio

The present and future of virtualization in the datacenter.
vSphere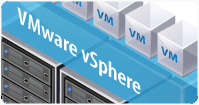 VMware vSphere, the industry's most complete and robust virtualization platform. The most demanding datacenters around the world depend on vSphere, virtualizing business critical applications with dynamic resource pools for unprecedented flexibility and reliability. Reduce your capital and operating costs and increase control over IT infrastructures.