Xerox
A wealth of inovative business solutions for any application.
Xerox

Solutions for document mgmt, digital color printing equipment, office & production printers, and business process outsourcing.
Multifunction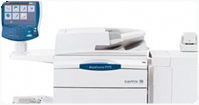 Xerox® Color C75 Press In an age when business is more challenging every day, versatility is an outstanding tool to have. The Xerox Color C75 Press is big production power in a small footprint, with the flexibility to produce the most demanding print jobs while being simple enough for anyone to walk up and use.