Barracuda Networks
Powerful, Afordable and very easy to use appliances for securing your network.
Barracuda Networks

Barracuda Networks continues to gain wide acclaim from customers, media and analysts by offering exceptional customer service, top-notch products and engaging partner programs.
Spam Firewall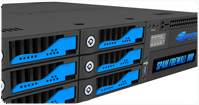 The Barracuda Spam & Virus Firewall is an integrated hardware and software solution designed to protect your email server from spam, virus, spoofing, phishing and spyware attacks far before it reaches your servers. It leverages 12 comprehensive defense layers to provide industry-leading defense capabilities for any email server within large corporate or small business environments.